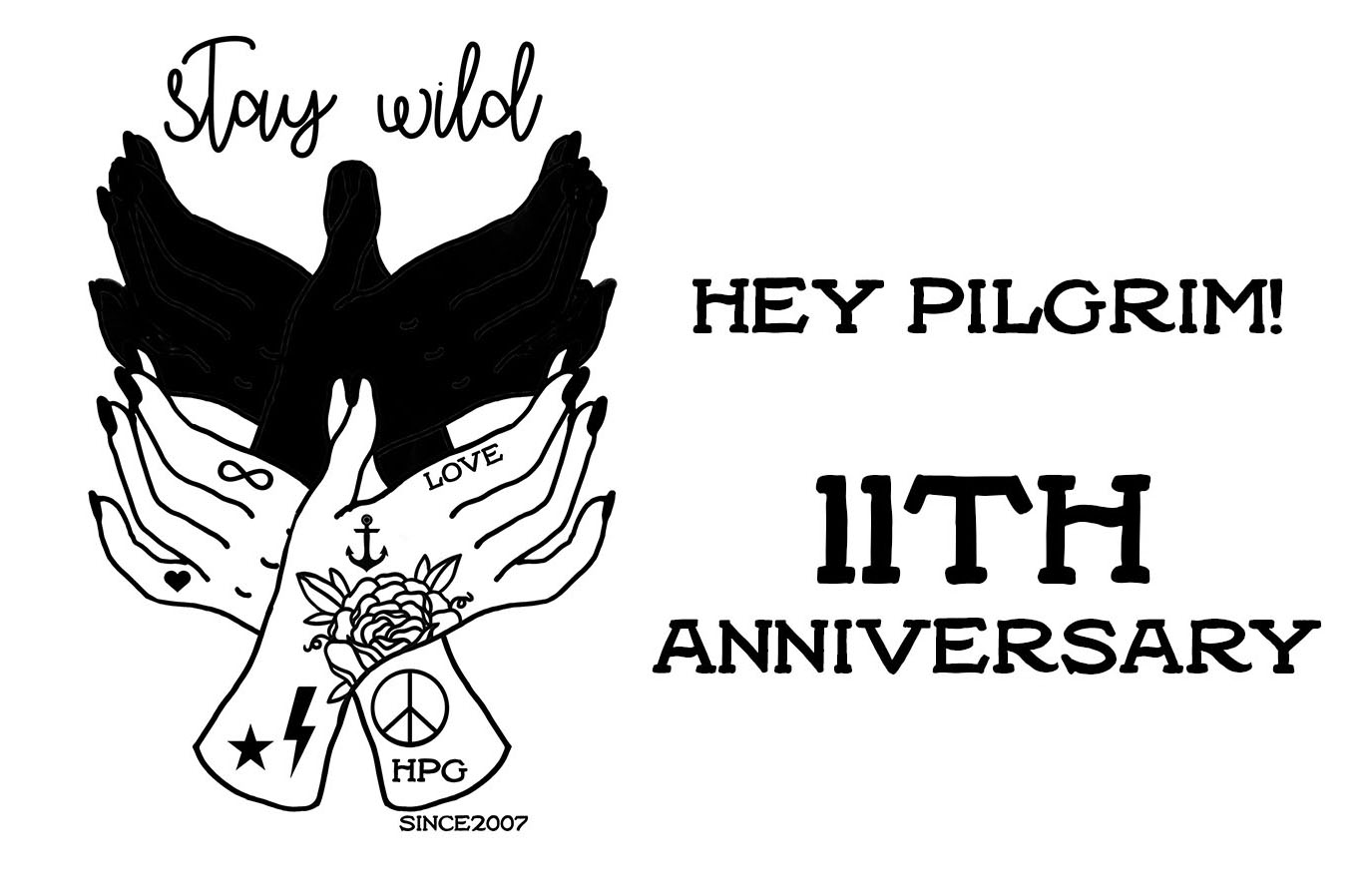 JOIN A ROCK STAR ON HIS EPIC 55-DAY RUN & HEY
PILGRIM RUNNING TO 11TH ANNIVERSARY ON 3
JAN2018 KEEP ON RUNNING!!!
On November 1, Artiwara "Toon" Kongmalai set out for a very long run — a 55-day, 2,191-kilometer (roughly 1,361 miles) from Thailand's Betong district in the southern Yala province to the Mae Sai district in the north Chiang Rai province — to be exact.
There's nothing waiting for him at the finish line. But he's not running for himself. Toon is running to inspire the citizens of Thailand to raise more than 20 million USD for 11 local hospitals. And if each Thai citizen donates 10 baht (30 cents USD), he thinks they can do it by December 25 (the end of the run).
Toon isn't widely known as a runner. As the front man of successful Thai rock band Body slam, Toon is first recognized as one of Thailand's biggest rock stars. But his love for running is uncompromising, and that's why he has made a commitment to end the year with this extraordinary mission.
To assist him in achieving his goal . We HEY PILGRIM designed this limited edition t-shirt to help raise money for the response.
For each shirt sold, a donation of 100THB (around $3USD) will be sent to this project
https:// www.kaokonlakao.com/
ก้าว
Last day for our JOIN A ROCK STAR ON HIS EPIC 55-DAY RUN & HEY
PILGRIM RUNNING TO 11TH ANNIVERSARY ON 3
JAN2018 KEEP ON RUNNING!!!We just transfered 21200thb or 646.168usd to this project but only HIS own project have made 1,157,181,266THB OR 35,341,410USD
We have to thanks so much for your support and love give and share.This is a new year gifts for all Thai people .We have to say thank you million times for thisxxx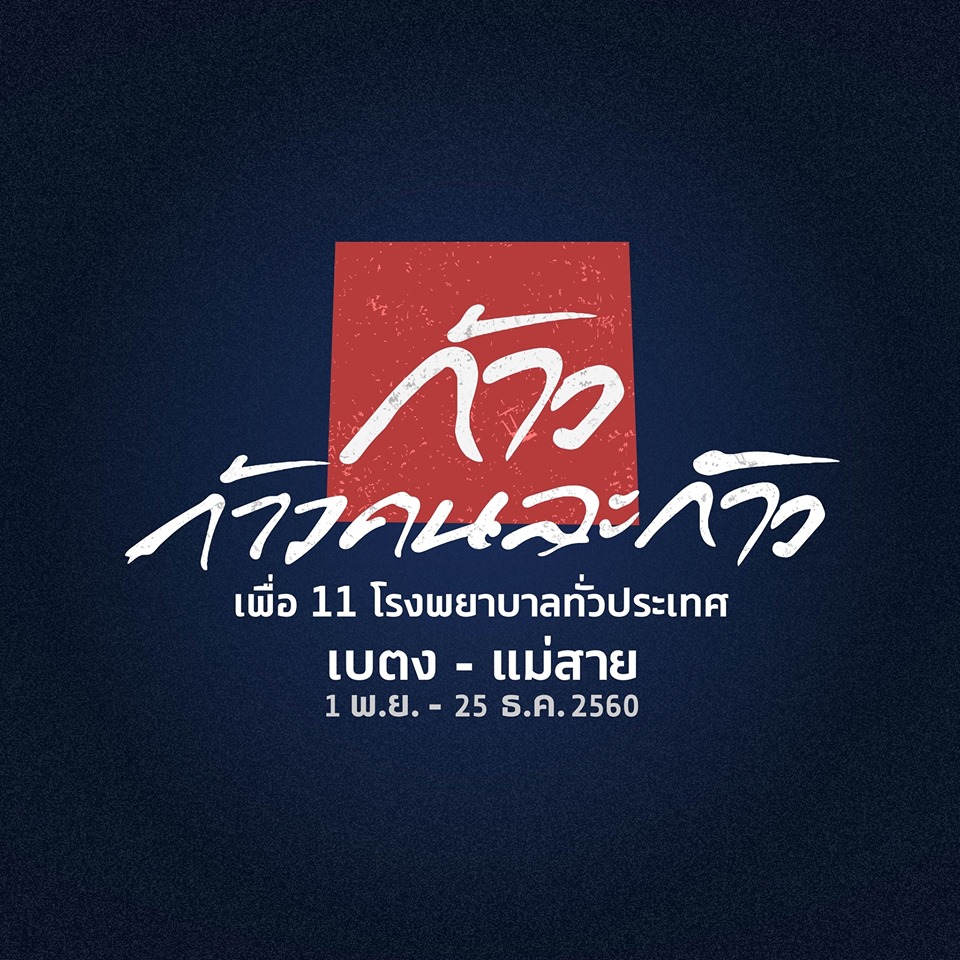 HEY PILGRIM,PHOTO CONTEST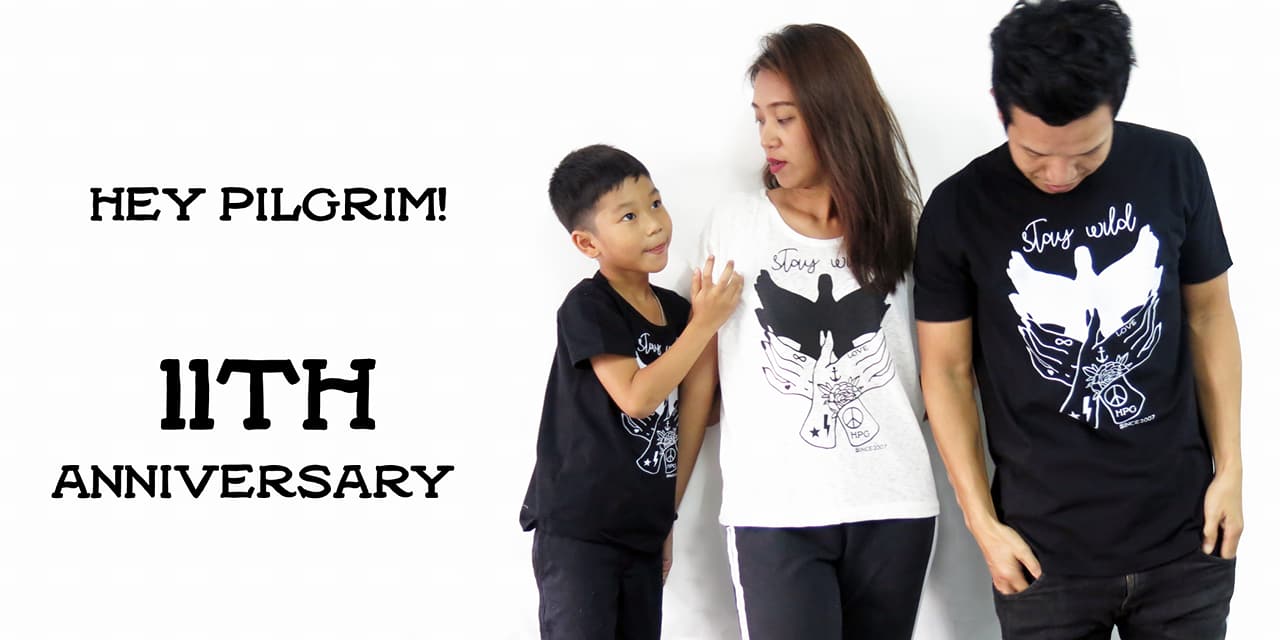 Send us a photo of you with your friends or your kids or your family … wearing our "STAY WILD TEE" Our Charity project
The most number of likes photo on Facebook + Instagram get FREE our GIFTS. You can choose any designs that available on our website
1ST free 6 pcs.
2nd free 3 pcs.
3rd free 2 pcs.
***free worldwide shipping
"UNTIL 25 JAN 2018"
Please inbox us a photos here :
FACEBOOK : Hey Pilgrim! Clothing
https://www.facebook.com/heypilgrim/
Instagram: @heypilgrimclothing
https://www.instagram.com/heypilgrimclothing/
Thanks so much for your support for our 10 years a very long run and keep running to years 11th together. Cheersxxx


วิ่ง55วันไปกับร๊อคสตา พี่ตูน และ วิ่งไปกับ HEY PILGRIM เข้าสู่ปีที่ 11
โครงการของพี่ตูนคงไม่ต้องเ ขียนไว้ในที่นี้คนไทยทุกคนค งทราบดี
HEY PILGRIM จะวิ่งเข้าสู่ปีที่ 11 ของการทำงาน ในวันที่ 3มกราค 2018 เรา HEY PILGRIM!จึงได้ออกแบบเสื้อส ำหรับงานนี้โดยเฉพาะ เป็นงานเขียนแบบไสต์ถนัดของที่ร้านพิมพ์ลงบนเสื้อยืด สำหรับผู้ใหญ่ มี XXS XS S M L ของเด็กเล็ก มีตั้งแต่ 0เดือน-7ขวบ เราจะจัดจำหน่ายในราคา 150บาท ในเวปรวมค่าจัดส่งแล้ว รายได้ทั้งหมด จะนำเงินไปสมทบทุนกับโครงกา รก้าวคนละก้าว เสื้อจะมีจัดจำหน่ายที่สวนจ ตุจักร อินสตาแกรม ไลน์ @littlepilgrim
https://www.instagram.com/ heypilgrimclothing/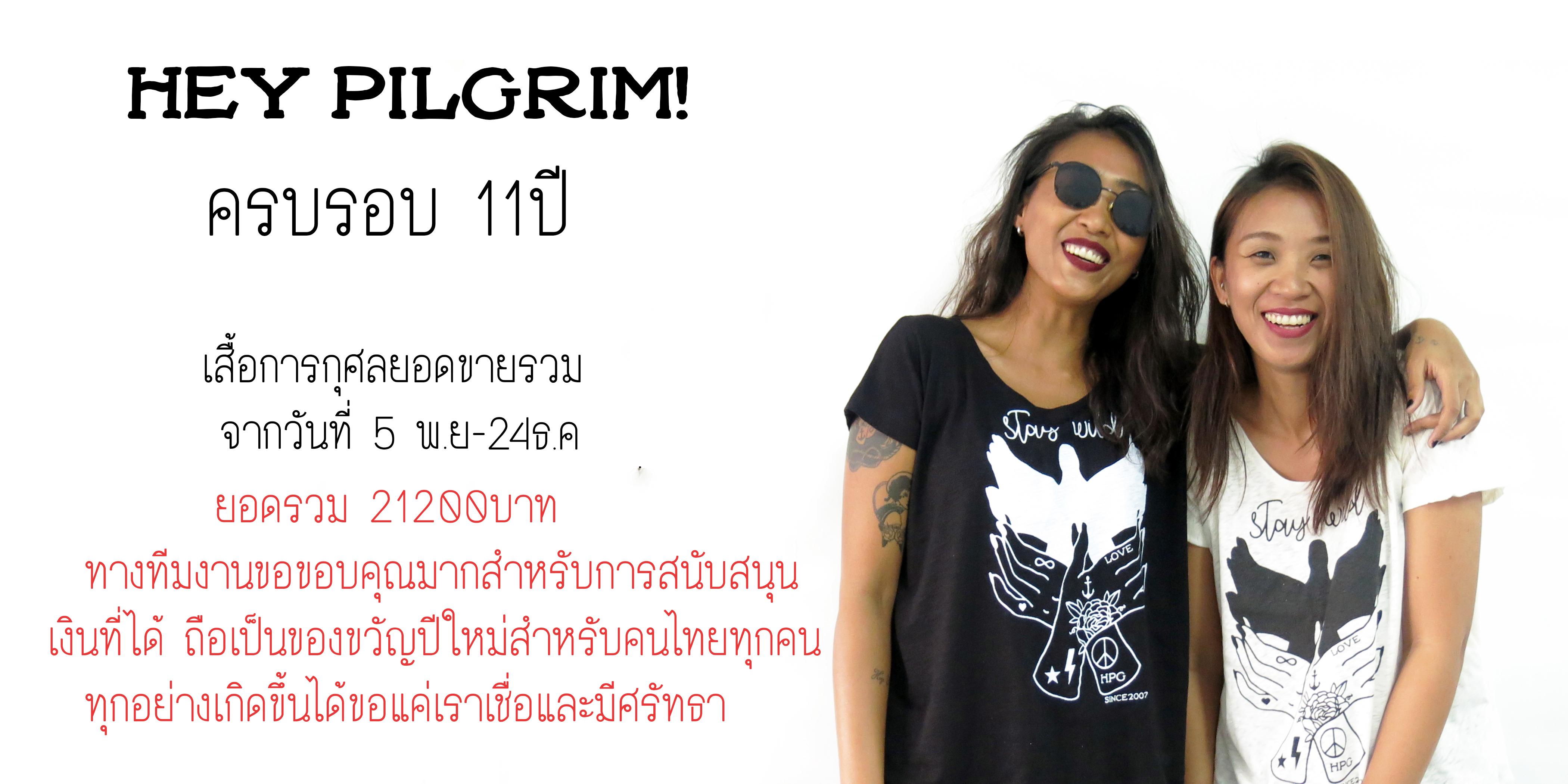 วันนี้วันสุดท้ายสำหรับการขายเสื้อยืดที่เราทำเพื่อร่วมหาเงินให้กับโครงการก้าวคนละก้าวของพี่ตูน
ยอดทั้งหมดอยู่ที่ 21200บาท เราคิดว่ามันเป็นของขวัญที่ดีที่สุดสำหรับคนไทยทุกคน เราได้เห็นความรัก ความร่วมมือสามัคคี ความมีน้ำใจ ให้แบ่งปัน เราขอขอบคุณสำหรับการสนับสุนและความเอื้ออารีของทุกคน

ขอให้ครอบครัวของคุณมีแต่ความสุขความเจริญทั้งใจกาย

มีของรางวัลมาแจกจ้า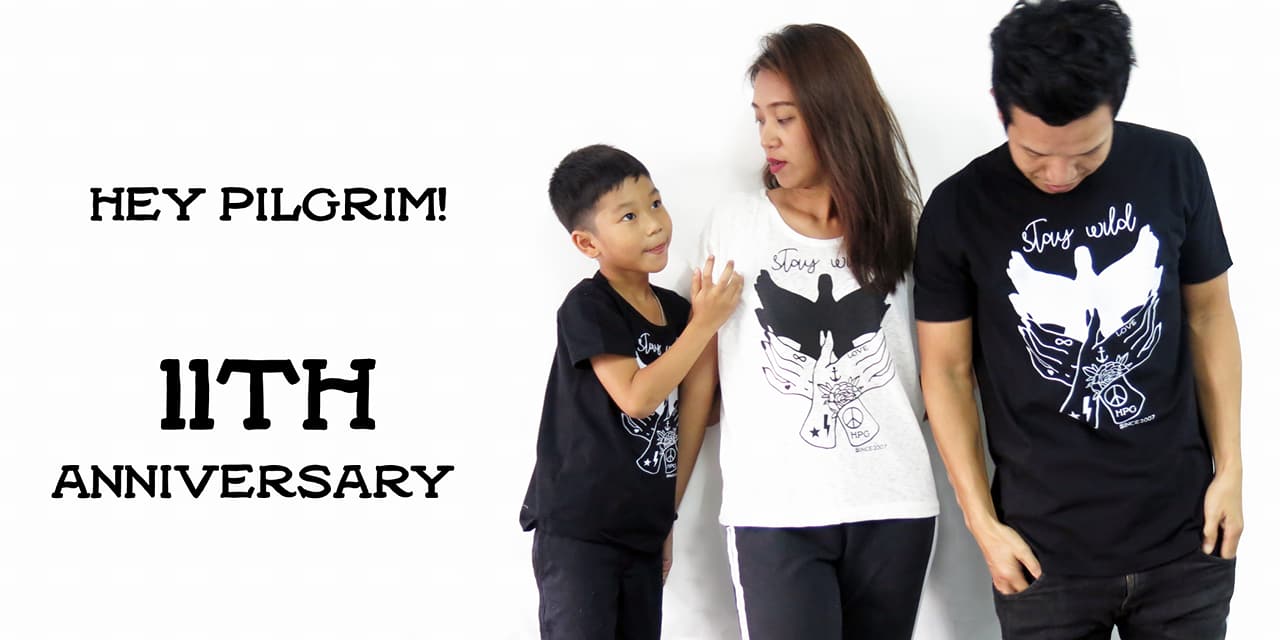 ส่งรูปคุณ ฉายเดี่ยวหรือกับเพื่อนหรือกับลูก กับหลาน กับแฟน กับครอบครัว ใส่เสื้อ "STAY WILD" ที่เราทำขึ้นโดยเฉพาะเพื่องานการกุศล วิ่ง55วันไปกับ พี่ตูนของรางวัลสำหรับคนที่ได้ไลค์มากที่สุดทั้งในไอจี+กับทางเฟสบุคหน้าเพจของเรา ส่งรูป อินบอคมาที่
FACEBOOK : Hey Pilgrim! Clothing
https://www.facebook.com/heypilgrim/
Instagram: @heypilgrimclothing
https://www.instagram.com/heypilgrimclothing/
รางวัลคือคุณสามารถเลือกสินค้าในร้านอะไรก็ได้
รางวัลที่1 เลือกได้ 6 ชิ้น
รางวัลที่ 2 เลือกได้ 3 ชิ้น
รางวัลที่ 3 เลือกได้ 2ชิ้น
เราจะนับยอดและตัดสินวันที่ 25 มกราคม 2561
ทางทีมงานต้องขอขอบคุณสำหรั บ การสนับสนุน และ กำลังใจตลอด 10ปีที่ผ่านมา มาวิ่งกับพี่ตูน และกับเราHEY PILGRIM เข้าสู่ปีที่ 11 ให้ถึงเส้นชัยอย่างภูมิใจกันค่ะ