Please contact us to get new update stocklist every week
WHATSAPP +66859007475
LINE : Pijitraheypilgrim

*** We can ship these items straight away after payment *** NOTE THIS CHANGES EVERYDAY and some items might sold out.
Note :

We are a designer brand .We have been working , building ,creating our own style and designs since 2007 .It's been 14 years of hard work.

We will not change the Brand or Label on any of our Products.

Please respect us!
WHOLESALE CONDITIONS WHEN BUYING FROM CURRENT STOCKLIST
1.Price on the website are retail prices.
2.Minimum order is 24 pieces. You can mix all items and sizes.
3. Wholesale Price does not include the shipping cost.
HOW CAN I SEND THE ORDER LIST?



You can send an order list to
WHATSAPP +66859007475
LINE : Pijitraheypilgrim

With the codes ,sizes and

quantity per size
ETC...
We will reply as soon as possible with the wholesale price, quantity, a reconfirmation of the order and invoice.


PAYMENT CONDITION

We Require a deposit payment to hold the order.Which we will send you a payment link by email.
We accept Payment Via:
- PAY PAL

(Please be aware that PayPal charge a 4.7% which we will include on the invoice)

We only accept payments in Thai Baht

It is possible to pay securely via Credit Card if you do not already have a PayPal Account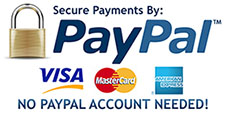 - Pay Directly to the CARGO COMPANY and we will collect the Payment from them. This has to be organized by the client.
SHIPPING OPTIONS
1.For Order 24 pcs. is around 2kg= 2000 gram
You can check the current Rate with this link Thailand post office
For ease we recommend using these 2 Shipping Options
-INT'L EMS-PACKAGE this takes 5-7 days price depends on destination country and package weight. With Tracking Number
-INT'L PARCEL-AIR this takes 7-12 days price depends on destination country and package weight. With Tracking Number
2. If your order is over 10kg we recommend using a Cargo Company.
If you don't have a Cargo Company we can help organize this for you.
If you have any questions please feel free to contact us at;
WHATSAPP +66859007475
LINE : Pijitraheypilgrim
Instragram https://www.instagram.com/heypilgrimclothing/
To check out our Studio click this link! Hey pilgrim Studio