BUY FROM CURRENT STOCKLIST means what we have right now in stock you can buy and follow with online items with size and quantity that are available , *** We can ship straight away after payment ***NOTE THIS CAN BE CHANGE EVERYDAY.some items might sold out .
WHOLESALE CONDITION BUY FROM CURRENT STOCKLIST
1.Price on the website are for retailer.please send us the email for wholesale price sheet HEYPILGRIMCLOTHING@GMAIL.COM
2.We need minimum @24pcs.,You can mix size and item are fine.
3.Pirce do not include shipping cost.
*Place order on Monday - Saturday = ship out on Monday week after
HOW TO ORDER?

1.Click on item you like see the group price A / B / C ETC... [Please send me the e mail for request the wholesale price ,sorry we can not show the real price on the website]
2.Click on the size you want ,You will see our stocklist show on each size.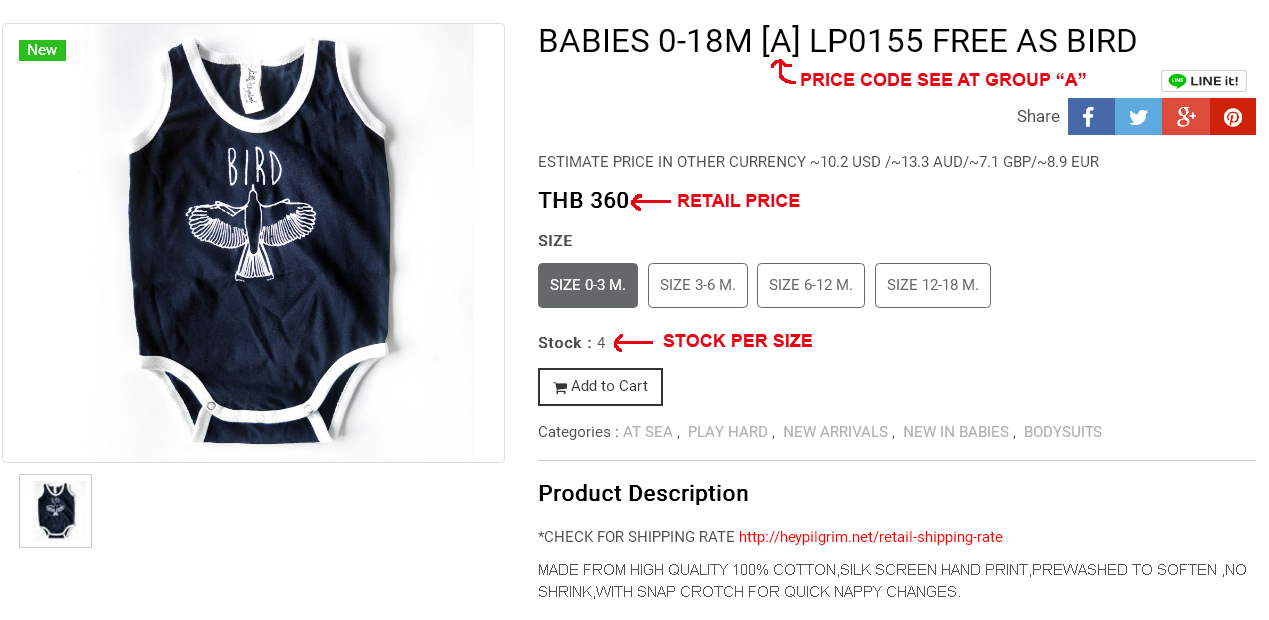 HOW CAN I SEND THE ORDER LIST?
You can send me the order list 2 ways.
1.You can write me the order list to my e mail HEYPILGRIMCLOTHING@GMAIL.COM With code ,size ans quantity per size "EXAMPLE: LP0101 0-3M=6 / 3-6M.=2"
2.Order as online shopping.
-You just click on "add to cart" As you do online shopping,Fill the unit per size you want.
-Click on "shopping button" if you would like to buy more.
-Click on "check out" to complete your order.
-If you don't want to register member,Just click on"guest check out".
-Fill all the customer data details
-Click on "bank transfer" **NO WORRIES even you want to pay by paypal,This just make the system send the order list back to me.
-Click on "order now"button **NO WORRIES You will see the total amount are so high price but that is for retail price,I will resend you the REAL INVOICE with all the wholesale price back to confirm the order.

PAYMENT CONDITION
1.After we get your order list we will send you the invoice to recheck and confirm the order and to make 50% deposit ***please note we not hold the order for you ,If we do not get the deposit payment .
2. after we get your deposit we will organize the order,and when the order are ready to deliverer we will send you the total balance to make the payment[include the shipping option and cost]
3. we accept only 3 ways of payment
- PAY PAL tax 4.4% clients pay for this ,only in Thai currency
-BANK TRANSFER tax 9% clients pay for this ,only in Thai currency
- collect the money at CARGO COMPANY clients have to organize for this with your cargo.

SHIPPING OPTIONS
1.we can recommend you our cargo company ,In this case your order have to be reach 10kg , 10 kg is around 250pcs. of clothes,
2.but if your order are small not reach 10 kg. better ship with Thailand post.[1kg is around 20-25pcs.of clothes] You can check the rate by this link http://www.thailandpost.com/index.php?page=index&language=en
we recommend 2 option of Thailand post shipping
-INT'L EMS-PACKAGE TAKE 5-7 DAYS cost up to the weight and country *With traking number
-INT'L PARCEL-AIR TAKE 10-15 DAYS cost up to the weight and country *With traking number
3.delivery to your cargo company ,the order have to reach 7,000thb we will delivery for free,but under 7,000thb we have to charge for delivery .[if extra example: delivery to hotel ,we have to charge for deliverly]