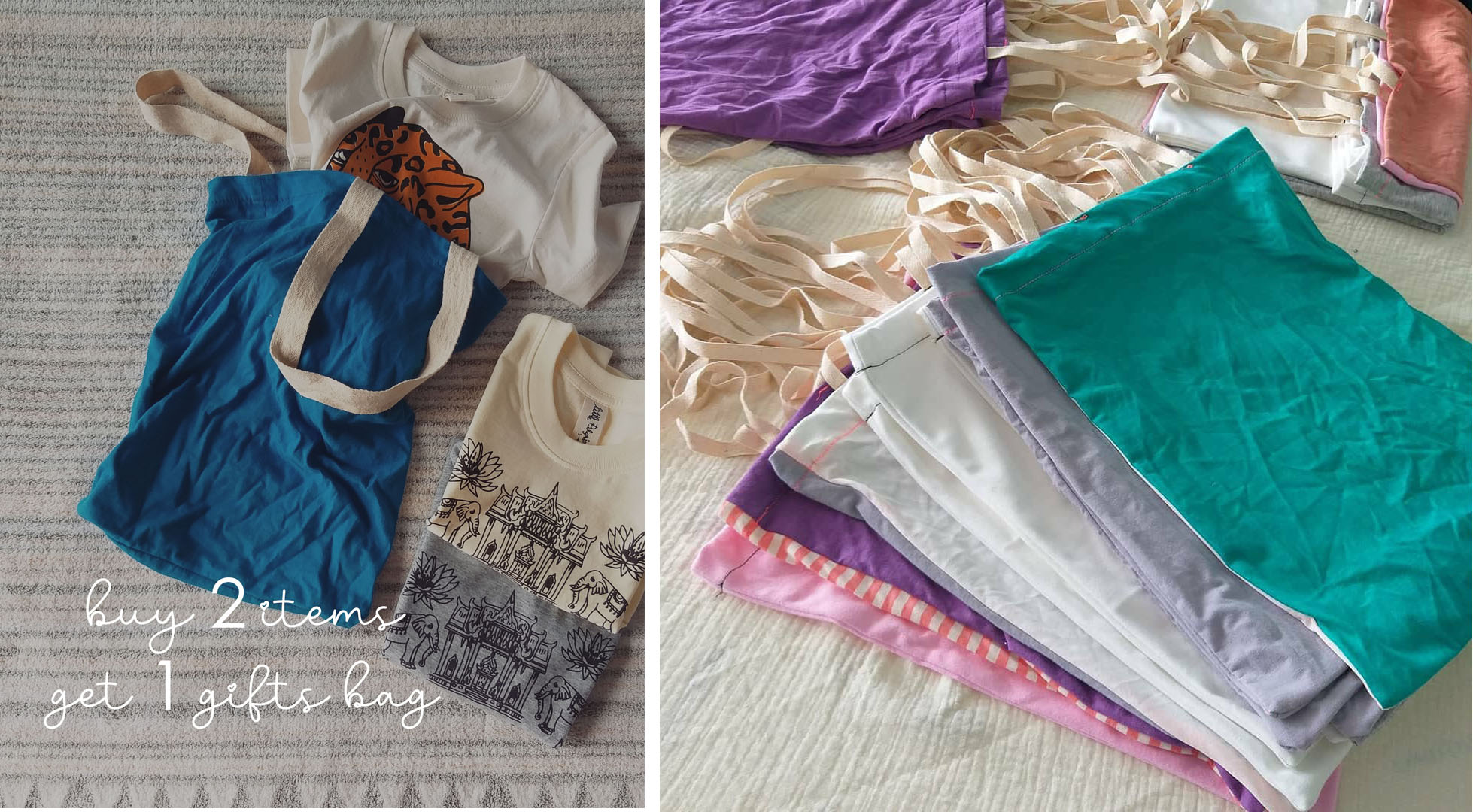 We share one world together .

• When we cut fabric to make t-shirts there are some small parts of fabric left over. These are called off-cuts. As we believe in being mindful and reducing waste we have designed a nice little bag using this fabric. At Hey Pilgrim we care about the Environment and want to reduce plastic bag use so . With evey 2 items purchase Get 1 bag come as as a gifts .It's a lovely thing to have for your kids' toys, to keep food in for your lunch or for your daily shopping.
*Note We don't offer any gift wrap or paper tags ,boxes or any waste package that is not necessary .We want to be as environmentally friendly as possible.

โครงการลดใช้ถุงช่วยโลกเป็นโครงการที่เราทำมาตั้งแต่ปี2014.ทุกครั้งที่เรามีการตัดผ้าทำเสื้อของที่ร้าน จะมีผ้าอยู่ส่วนหนึ่งที่ต้องทิ้ง หลังจากการตัดแล้ว เพราะเล็กจนไม่สามารถเอาไปทำเสื้อได้ เราอยากลดขยะส่วนนี้ลง เราจึงออกแบบถุงผ้าขึ้นมาเอาไว้ใส่เสื้อให้กับลูกค้าจะได้ไม่ต้องใส่ถุงพลาสติกให้ หวังว่าจะเป็นประโยชน์ะค่ะ เอาไว้ใส่ของเล่นลูก ถุงใส่อาหารกลางวัน เอาไว้ใส่ของจุกจิกไปยิม หรือเอาไปซื้อของตามซุปเปอร์มาเกตหรือร้านสะดวกซื้อ จะได้ช่วยลดใช้ถุงพลาสติกกัน เมื่อซื้อสินค้า2ชิ้น แถมถุงผ้าฟรี 1ใบ
*ทางร้านไม่รับห่อของขวัญ ไม่ใช้ป้ายกระดาษสินค้า หรือกล่อง หรือกระดาษห่อต่างๆ ที่ไม่จำเป็น เพื่อเป็นมิตรกับสิ่งแวดล้อมและลดการสิ้นเปลืองให้มากที่สุด